Corinella Public Hall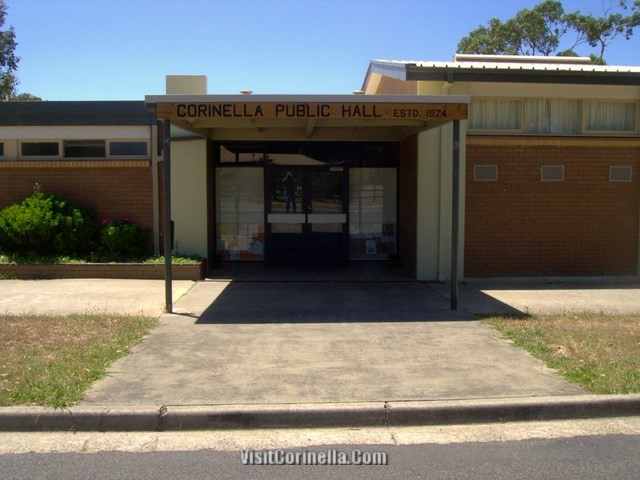 Corinella Public Hall is located Smythe Street Corinella Victoria
By prior booking the hall is available to hire for those occasions when you may just need more space
such as an wedding anniversary, reunion, Christmas party, a birthday or maybe even a square dance!
Other uses in the past have been for :

Christian meetings,
Real estate auctions,
Election ballots, local community group meetings,
Community fund raisers, conferences, theme dances and the list goes on!
The hall is a large brick building with kitchen and conveniences, it has a reception foyer and two rooms .
Situated right alongside the Harold Hughes reserve, which has a modern children's playground makes this
an ideal venue for your special use!
To enquire or to make bookings contact :
Jan Erikson Phone 0435 032800
Further Contacts :
Barbara Oates
Ph: 03 5678 0245
Corinella Public Hall Committee Of Management Meeting Minutes
The Corinella Public Hall is managed by a Committee of Management
The Committee takes care of all aspects of the hall including it's hire and maintaining the building and takes
care of the day to day operating costs expenditure and income, all on behalf of the Corinella Community.
Each month the Committee meets to oversee the monthly needs and disscuss current issues, you can view
the meeting minutes that arise from this meeting in draft form in a Pdf file by clicking on the link below .