Fishing Corinella Jetty Pier
Fishing Tips For The Corinella Jetty Pier by Jarrod Day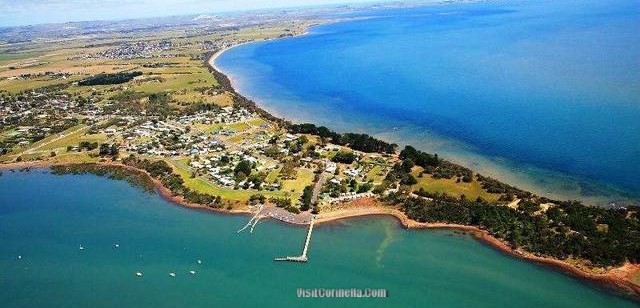 Jarrod Day profiles Corinella Pier in Western Port Bay that can provide some great land based action for anglers without a boat. Corinella is around on the far side of Western Port for Melbourne-based anglers, but it's worth the drive to access the diverse range of species available.
THE CORINELLA JETTY / PIER
Corinella Pier is located at the end of Peters Street Corinella Victoria and Is Managed and Maintained By PARKS VICTORIA Phone 131 963
Corinella Pier is a sturdy platform made from concrete and wood. At the end of the pier, the structure takes a right hand turn and runs parallel to the shore for around 20m before leading down onto a lower platform.
When wet, the wood section on one end of the pier can be slippery and care must be taken. Fishing from both ends of the pier provides anglers with access into the channel.
Anglers need to fish either the left or right hand side depending on which way the tide is running. Strong northeasterly and southeasterly winds make fishing difficult while a direct easterly shelters the pier from the wind. The channel is within casting distance averages 5m in depth and has a mostly mud and sand bottom.
Land based Fishing at Corinella
Around 500m to the left of the pier is a rock platform known as Settlement Point, where many anglers can catch a variety of species. Off Settlement Point the bottom is mostly reef but must be fished on a low, run-in tide.
Pier fishing tips for fish species below
FLATHEAD
Flathead are a bottom dwelling species, therefore a running sinker rig is ideal. A mainline of 10lb is adequate, with braided fishing lines being less affected by the pressure of the current. Leader should be at least 20lb if pinky snapper are around. Flathead prefer smelly baits such as blue bait or prawns but they will eat virtually anything tossed into the water. Suicide or circle hook patterns in sizes ranging 1 to 1/0 are suitable.
SALMON
The most versatile rig when salmon fishing is the paternoster rig. The paternoster has two droppers that allow for two hooks to be used. Size 1 bait keeper hooks will suffice or alternatively a size 2/0 suicide pattern. Tie the rig from a fluorocarbon leader of around 10lb breaking strain.
Some anglers choose to use a pre-rigged wire paternoster that can be purchased from most tackle shops. If you are using one of this rigs, I suggest you still use fluorocarbon leader tied between the wire droppers and the hooks. Best baits are pipis or small strips of pilchard. If you want to attract numbers of salmon then using a fine fishy berley is the key.
BARRACOUTA
When using berley from the pier, barracouta quite often move in on the offerings. Often anglers don't realize barracouta are around until they get a bite only to then find their hook has been bitten off. Pre-tied paternoster rigs made from wire are ideal if you want to target barracouta. Hooks of size 2-6 in a long-shanked pattern will prevent some bite offs if using mono filament leaders. When using wire, any style hook will do but keep them small (size 6 to 1/0). Small pilchard fillets will be snapped up quickly. Anglers can also toss around small lazer lures to find success.
TREVALLY
During the warmer months, silver trevally can be targeted alongside the Corinella pier. They often congregate under the pylons and can be hard to catch. A paternoster rig made from 10lb fluorocarbon with size 8 long-shanked hooks work the best. Berley must be used along the side of the pier to coax them out from their cover. Often they dart back into the pylons after being hooked so a 2m lightly tapered rod is recommended. Favorite baits are pipis and mussels.
WHITING
One of the tastiest fish in Western Port is the King George whiting. To catch them, fish the first two hours of the run-out tide on the left hand side of the pier. Make your casts about 5m out, and use berley to attract them to the pier. They prefer soft pipi or mussel baits placed on a paternoster rig with red beads or tubing above the hook. Long-shanked hooks work well in size 8 or a KL 1/0 circle hook.
ELEPHANT FISH
During the annual elephant fish migration (February to May), anglers fishing from Corinella Pier encounter elephants. A mainline of 20lb is adequate with 20lb leader also ideal. Small baits such as pilchard pieces, squid strips and pipis are preferred. Elephants have only small mouths so a 3/0 KL circle hook works best. Cast directly out into the channel and wait. If the elephants are around it shouldn't take long to get a hook up. Berley can be used but your baits will often be eaten by flathead.
GUMMY SHARKS
Anglers in search of gummies can cast large baits out into the channel. A running sinker rig is recommended as gummy sharks feed along the sea floor. Mainlines should be quite strong, around the 20lb mark, with leaders of either 60 or 80lb. KL 6/0 circle hooks or Wasabi 6/0 suicide patterns are beneficial when gummy fishing. Gummies like oily baits so calamari, salmon fillets, tuna fillets, cured eel fillets, or even the humble pilchard work best.
SPECIAL TIPS
As with all pier fishing, berley is very important at Corinella to attract fish to your fishing position. The most productive technique when using berley is to use a small berley bucket and fill it with your berley mixture. Hang it from the pier on the surface of the water and cast your baits 5m in front of it. Your targeted species will search for the food source and find your baits.
A LONG SHOT (Mulloway)
One of the most highly-prized species of Western Port is the mulloway. Anglers fishing during the night on the lead up to the full moon do lock horns with these brutal fish but many battles result in bust-offs. Drag settings, good knots and good quality fishing line must all be inspected if you want to land one.
Fresh baits are best, such as calamari or fish fillets, although for best results use live mullet or salmon. Most anglers targeting mulloway do so using a running sinker rig. 7/0 live bait hooks work well when live baiting or if using a dead bait a single 7/0 suicide hook will suffice. If sea lice are a problem, place your sinker on a 60cm dropper to keep the bait elevated off the bottom.
If You would like More Fishing Information on Corinella Go to the Fishing and Boat Launching Ramp page
on This website Just Click On the Orange Button Below marked Boat Fishing !

Corinella Boat Fishing !
Saved ! The Corinella Jetty !
In Corinella's Recent History a Community effort was made to Save the Corinella Jetty !
Parks Victoria had made known that due to a lack of funds, the end platform of the Historic Corinella Jetty was to be Demolished and Not Replaced !

The Corinella Community was not impressed ! all went about organizing a fundraising campaign to have the jetty landing Rebuilt !
Have a look at a short video below that tells a little of our story !